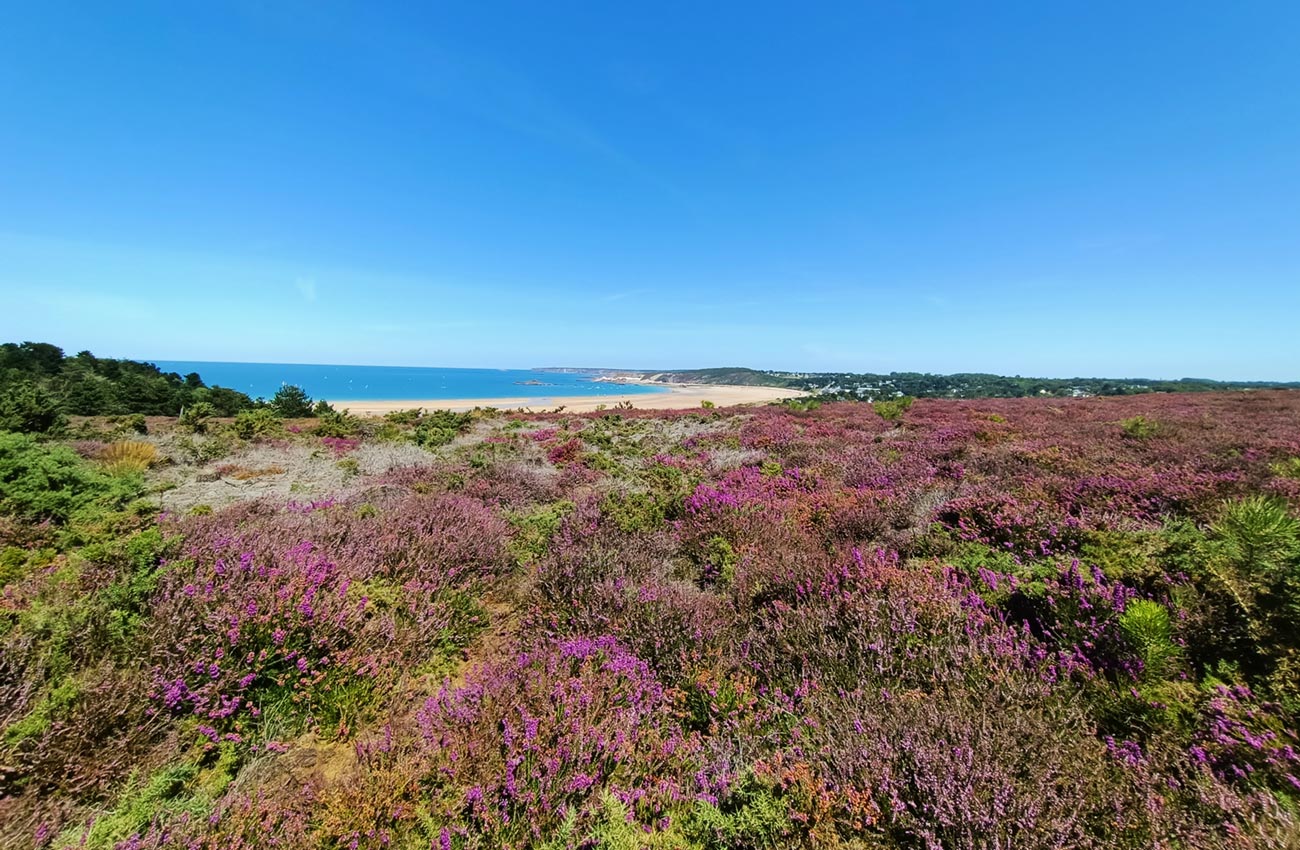 Hiking is fun!
L
e GR34 est le sentier de grande randonnée qui borde le littoral breton du Mont-Saint-Michel pour finir à Saint-Nazaire. Il s'étend ainsi sur 1700km. Il emprunte en grande partie les anciens sentiers des douaniers qui leur permettaient à l'époque de patrouiller le long des côtes tout en bénéficiant de points d'observation clés de la côte bretonne.
Le GR34, a été élu en 2018 GR préféré des Français !
The GR34 is the long-distance hiking trail that borders the Breton coast from Mont-Saint-Michel to finish in Saint-Nazaire. It spreads like this over 1700km.
It largely borrows the old customs foot paths who allowed at the time to patrol along the coasts while benefiting from key observation points of the Breton coast.
The GR34, was elected in 2018 the French favorite GR!
From the Gîtes du Pêcheur, the GR34 is located 200m away on foot in the heart of the Grand Site de France Cap d'Erquy-Cap Fréhel. At the end of these 200m, you enjoy an incredible view overlooking these aside resort of Sables-d´Or-les-Pins and its lagoon.
It is a real playground for nature lovers. Here, the heather and gorse offer us beautiful purple and yellow colors that contrast with the emerald blue of the sea. With the Grand Site de France label, this part of the coast is more preserved and remains authentic between two flagship sites; Cape of Erquy and Cape of Fréhel.
On one side, you will find the Cap d´Erquy which over looks Erquy and its port. In Erquy, the beaches are wild with the mixture of pink sand stone cliffs and the wild moor that changes colors according to the seasons. It's a paradise for flora and fauna!
A little further, the Cap Fréhel offers one of the most beautiful views of Brittany with cliffs reaching up to 70m height.
It is also an ornithological reserve where you can observe the broom of birds.
The icing on the cake, by following the Gr34 between the two Caps, you discover a succession of coves and beaches among the most beautiful of the Brittany North coast.